Leased or Owned Propane Storage Tank Installations
Southeast Texas LP Gas Tanks


Houston-area propane gas delivery customers rely on Green's Blue Flame Gas for quality propane service provided by trained, dependable, and experienced personnel. Our service technicians have over 20 years of propane system installation experience in Texas and are prepared to handle any residential installation.
---
Houston Area Propane Tank Installation
We offer propane tank installation services, which are available across the Houston area including Cypress, Tomball, Waller, Magnolia, and Hempstead. With Green's Blue Flame, you can be assured that your tank installation will be a high-quality job that meets all relevant codes. We have a large availability of above ground and underground propane tanks ranging from 120 gallon to 1000 gallons. We also provide propane tank leasing and propane tank purchasing options for our customers. All tank installations include a complete propane system safety check, and each new customer is provided with a safety information packet that describes the properties and characteristics of propane gas.
---
Texas Propane Gas Tank Monitoring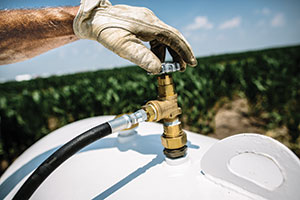 Green's Blue Flame can supply and install propane tanks with remote monitoring systems with web-based software, which includes applications to automatically to text or e-mail tank levels–another way to ensure that fuel is always available.
---
Available Propane Tank Types and Sizes
Houston-based Green's Blue Flame has propane tanks for sale or lease in sizes ranging from 120 gallons through 1,000 gallons. Our inventory contains both above ground and underground propane gas storage tanks in 500-gallon and 1,000-gallon capacities.