Commercial and Industrial Propane Services in Texas

If you have a business in or around Houston, TX and you need a reliable propane company with experienced and trained employees to service your propane needs, look no further than Green's Blue Flame. We offer automatic delivery and will-call route service to commercial and industrial customers in Harris, Waller, and Montgomery counties. Our computerized routing system, including weekly, bi-weekly, and monthly intervals, allows for flexible LP gas delivery scheduling to meet just about every need. Next- or same-day will-call deliveries are available in most cases.
Houston Propane Forklift Services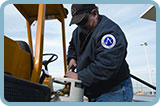 Green's Blue Flame is the full-service company to call for propane-powered forklift applications in the Houston area. Our forklift services include delivery of high-quality engine-grade propane, installation of racks and cylinders, and bulk tank installations.
Bulk Propane Installation and Service
Green's Blue Flame installs and services bulk LP gas tanks from 120 gallons up to 30,000 gallons that provide fuel for many applications.
Office and Shop Heating
Single or Multiple Tank Systems for Manufacturing, Cooking, and More
Bulk Forklift Cylinder Filling
Cylinder Dispensing
Mobile Fuel Dispensing (Food Trucks and RVs)
AutoGas Fueling (Dispensing for Vehicles)
There is no installation that we consider to be too big or too small. Each system is sized and designed to meet the specific requirements of each customer and installed in accordance with all applicable codes. Remote tank monitoring systems can be installed with web-based software that will automatically e-mail or text the propane level in the tank, ensuring we are always aware of when service is needed.
Temporary Propane Installation and Service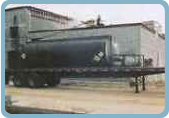 Green's Blue Flame also provides temporary tank installation and service for customers. Our expert technicians see that those tanks are ready to serve various situations, including commercial roofing, moisture control, metal stress relieving, and specialty events. Complementing the temporary propane storage are on-call deliveries that can be arranged for 24-hour service. We know that propane demand is critical to the successful completion of any job. That's why you can rely on Green's Blue Flame to be there on time, as scheduled.
We also provide forklift cylinder services for temporary forklift jobs.
Propane AutoGas
Successful alternative fuel programs, especially propane, require your fuel supplier to be engaged in every aspect of the program. Green's Blue Flame provides all the services necessary to convert your fleet, install infrastructure, maintain the propane systems, and provide fuel supply. Learn more about AutoGas here.
Commercial Landscaping
Green's Blue Flame provides all of the services commercial landscapers need to convert a fleet of mowers to propane including conversion, dispenser or storage rack installation, and fuel supply.
Propane Conversions
From generators to vehicles, Green's Blue Flame can take care of almost all of your propane conversion needs.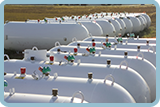 Commercial Products
Green's Blue Flame Gas carries a wide range of commercial products including tanks, storage racks, torches, and a wide variety of propane equipment for forklifts.
Commercial Incentives
Check the commercial incentives available to help you save money and go green with propane!
Save