Propane Gas Fleet Vehicle Conversions
Green's Blue Flame is a proud partner of Alliance AutoGas, a network of companies that have joined together to form a chain of propane AutoGas vehicle conversions, on-site fueling infrastructure, fuel supply, and ongoing technical support. Together, we provide a real turn-key solution for fleet managers who are ready to make a commitment to using a clean alternative fuel – and save substantially on fuel costs at the same time.
Vehicle Conversions
Fueling at Fleet Base
Ongoing Support
MORE ABOUT AUTOGAS CONVERSIONS
---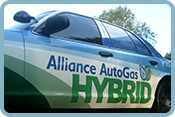 Cut Your Fuel Costs with Propane AutoGas
Converting your delivery fleet vehicles to propane means:
Substantial fuel cost savings on gasoline and diesel
Reduced emissions to create a cleaner environment
Clean propane fueling at your fleet base
Reduced dependence on foreign oil imports
Learn more about propane vehicle conversions on the Alliance AutoGas website!
---
About Our Propane Fleet Conversion System
Working with fleets of all sizes, Green's Blue Flame and Alliance AutoGas are helping fleets save significantly on fuel costs and displace enormous amounts of gasoline. Click here to view a list of vehicles for which our conversion system is EPA certified.
The Prins VSI System Uses Five Main Components:

VSI Reducer: converts the liquid AutoGas stored in the fuel tank to vapor
VSI Injector/Injector Rail: injects the AutoGas into the inlet manifold for each cylinder (developed in cooperation with Honda Corp., Japan)
VSI Filter Units: filters particles out of the fuel to prevent injector damage
VSI Computer: controls the VSI system (controls up to 8 cylinders)
LPG Switch: displays fuel level, and allows driver touch-key control over fuel choice; also indicates possible system error
This system surpasses previous models of conversion systems in performance and quality. Alliance AutoGas confidently asserts that the Prins system is the finest AutoGas hybrid vehicle conversion system available.
---
Invest in Your Texas Propane Gas Delivery Fleet's Future
When you convert your propane delivery fleet vehicles to propane with Alliance AutoGas, you are investing in your fleet's future. Our conversion system can be moved from one propane-powered fleet vehicle to another, so replacement vehicles can immediately be converted with minimal investment, and your fuel cost savings can be passed to a new generation of trucks and other vehicles.
Give us a call or email us today to learn more about this exciting solution that is helping more and more fleets in Houston, Texas make the economically sound and environmentally responsible decision to use clean propane AutoGas fuel to power their propane delivery fleet vehicles.
---
Propane Gas Lawn Mower Conversions
Houston's long and harsh summer environment puts rigorous demands on lawn equipment, only some of which is originally powered by propane fuel. With that in mind, our outstanding technicians handle propane conversions that result in low maintenance and dependable operating service for your mowers and other lawn machines, allowing you cost savings, peace of mind, and LP gas efficiency levels.