Houston Commercial Landscaping with Propane
The Benefits of Choosing Propane for Landscaping in Texas
There are many reasons why propane is becoming an increasingly popular, affordable, and low-emission fuel choice among commercial landscapers in Southeast Texas. Here are just a few reasons propane's popularity is skyrocketing:

Reduced fuel costs: Landscapers who have switched to AutoGas and propane have reported savings of as much as 30% to 40% compared to gasoline.
Fewer emissions: Reduced carbon emissions allow you to position your company as more environmentally friendly than your competitors. This can also benefit you when bidding on jobs.
Easier refueling: Propane gas is easily delivered right to your HQ or the job site. With no more trips to gas stations, there's much less down time for your crews.
Cleaner refueling: Propane gas transport and hand-off offers spill-free, zero-emission fueling. Propane is much less flammable than gasoline, and it is also non-toxic.
A proven performer: Propane gas has been fueling commercial landscaping equipment for years.
American made: Switching from gas to propane lessens our dependence on imported fuel.
---
Texas' Alliance Small Engine Propane Conversion System
Green's Blue Flame employs a propane gas conversion kit designed and manufactured by Alliance Small Engines, the recognized leader in propane small engine conversion systems.
---

Alliance Small Engine systems are available for small gasoline utility engines from 1 to 45Hp. These ASE systems are manufactured using the highest OEM material to ensure best performance and longevity, and can be converted easily to propane gas fuel. Our system is specifically designed for small propane gas powered engines. Here are key benefits of the Alliance Small Engine propane conversion system:
Systems are EPA-certified and tested in an OEM sanctioned test lab
Complete system includes all necessary installation items and parts
Propane fuel filtration on each system to maintain the quality of the regulator
Specifically designed regulator with integrated solenoid for propane gas shut-off
Two-stage LP gas delivery, and safety integration second to none
Quality of molding of components insures consistent quality and resistance to harsh environments in everyday operation
Boasts a sleek design with OEM quality system components
---
Why Green's Blue Flame Should Be Your TX Commercial Landscaping Partner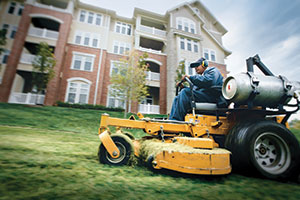 When you choose to work with Green's Blue Flame to convert your commercial landscaping equipment from gasoline to propane, we'll provide a return on investment (ROI) calculation as part of our estimate to determine if converting to propane gas makes sense for you over the life of your mower.
In addition, Green's Blue Flame works closely with you throughout the entire gasoline-to-propane conversion process, including:
Savings estimate/ROI regarding propane
Mower propane conversions
Propane rack and cylinder delivery or fueling infrastructure installation
Scheduled propane fueling program
Warranty and maintenance on LP gas systems
---
Propane Conversion Pricing Transparency
We offer propane gas service pricing transparency so our commercial landscaper clients fully understand all aspects of the propane fuel conversion programs. You will be glad to know that local and accessible propane gas service technicians are available to quickly solve problems with propane and gasoline fueling infrastructure or other equipment. Interested in learning more about propane, gasoline, or gas-to-propane equipment or machinery conversions? Contact us here!