AutoGas: Texas' Liquefied Petroleum Gas (LPG)
Power your propane delivery fleet vehicles with cleaner-burning propane AutoGas!
What Is AutoGas?
AutoGas is the term used to describe propane when it is used as a fuel for vehicles. It's also known as LP gas, or LPG. You might be surprised to learn that AutoGas is the world's most popular alternative fuel. In fact, there are as many as 18 million vehicles in the U.S. that have been manufactured or converted to use AutoGas!
With all the talk about alternative fuels, propane AutoGas is an example of an alternative fuel that is here now, and ready to be put to work today. Not only is propane AutoGas a more cost-effective fuel than gasoline; there is a vast, ready supply of liquefied petroleum AutoGas available right here at home in the USA.
---
Why Choose AutoGas Over Gasoline Fuel in Texas?
There are many good reasons to convert your Greater Houston, TX commercial fuel delivery fleet to propane AutoGas:

It's cheaper: propane AutoGas costs approximately 30% less to use than gasoline
It's cleaner: propane AutoGas releases considerably fewer carbon emissions into the atmosphere, allowing you to promote your environmental awareness and concern
It's safer: AutoGas is less flammable than gasoline and it is also a nontoxic fuel option
Propane AutoGas has the longest driving range of any alternative fuel on energy market
You can keep the same fleets, machinery, equipment, and vehicles you have now and realize better performance by having conversion to AutoGas performed
You have the option of converting your vehicles to use both propane AutoGas and gasoline
---
Convert Your Delivery Fleet to Propane
Green's Blue Flame is a partner in Alliance AutoGas, a nationwide consortium of propane conversion companies. Our Houston-based propane fleet vehicle conversion center is backed by a supportive network of professionals who adhere to a strict protocol of engine conversion standards. This ensures quality conversions and a dependable nationwide AutoGas conversion and fueling support network.
---
On-Site Liquefied Petroleum Gas Fueling at Your Southeast Texas Fleet Base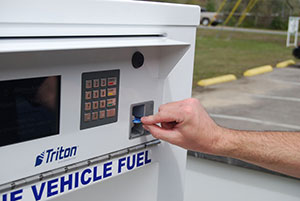 Alliance AutoGas provides an on-site propane gas fueling station at your fleet base, typically at no cost to you. Here are some benefits of your propane gas fleet fueling solution:
Spill-free, zero-emission propane fueling
No implementation costs
Initial training for propane delivery fleet drivers/operators
Ongoing technical support
Propane is delivered straight to your fleet base
Propane can be dispensed from your fleet base
---
Take Advantage of Green's Blue Flame AutoGas Texas Fueling Locations

You can refuel your propane-powered AutoGas vehicles at the Green's Blue Flame Houston office, our Waller office, or our dedicated 24-hour fueling station near IAH Airport.
Houston Office: 13823 Packard Street, Houston, TX 77040 – Open M-F 8:00 a.m. – 5:00 p.m.
Waller Office: 28502 FM 2920, Waller, TX 77484 – Open M-F 8:00 a .m.-  5:00 p.m.
Bush IAH 24-hr Re-fueling Station: 8531 Humble Westfield, Humble, Texas 77338
---
The Texas AutoGas Conversion Process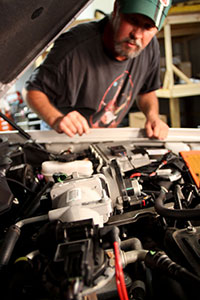 The Alliance AutoGas network of partners includes certified fuel-to-propane-gas conversion centers that will convert and maintain your AutoGas bi-fuel vehicles, and Alliance AutoGas financing programs may enable fleet vehicle propane conversions with no upfront cost!
Most Alliance propane AutoGas vehicles use the Prins VSI Conversion System:
This system has been EPA-certified for many typical fleet vehicle models
Engine starts on gasoline and immediately switches to AutoGas
Engine can switch back to gasoline if driver cannot reach home base
Aftermarket AA+-rated warranty for 3 years/36,000 miles with option for extension
Conversion kit can be removed from retired vehicles and installed on new, replacement vehicles
Alliance AutoGas can also provide OEM AutoGas vehicles
---
Propane AutoGas System Warranty and Service in Houston
Our highly-trained propane delivery and propane conversion technicians are certified to work on the following systems:
Prins (Alliance Engineered Systems)
Roush (Authorized Service Center)
ICOM
Technocarb
Campbell-Parnell
Clean Fuel USA