Residential Propane Gas Products in Greater Houston
Residential Propane Products for TX Homeowners


The following are just a few of the propane gas products we offer to service residential customers here in the Houston area. RH Peterson & FMI Products manufacture a complete line of:
Vented Gas Log Equipment
Non-Vented Gas Log Equipment
Small Bathroom Heaters
Self-Contained Fireplace Units
---
Texas' Indoor & Outdoor Heating with LPG Fuel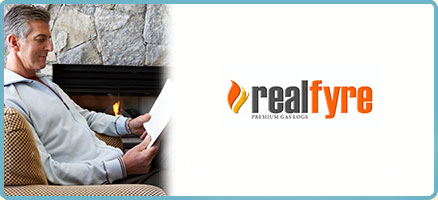 Gas stoves and fireplaces are designed to look like their wood-burning counterparts, and modern design advancements have created simulated logs and flames that can't be distinguished from the real thing! Plus, propane gas stoves and fireplaces save you money because they can heat larger areas more evenly and efficiently than wood-burning fireplaces. Propane fireplaces are virtually maintenance-free – no ashes or soot. They also improve the air quality of a room. New venting options make installation easier and keep construction costs down by eliminating masonry or metal chimneys. Some of the newer, zero-clearance models can go almost anywhere and most models don't require electricity.
Sit back and relax with a new propane gas patio heater. We have a wide selection of outdoor propane heaters for your deck or patio. Whether you're entertaining guests or relaxing by the pool, our propane patio heaters will keep you warm and cozy all year long. Or gather family and friends around a classic fire pit. Extraordinary design combined with functionality will make one of our fireplaces or fire pits a brilliant choice for your outdoor area.
---
Come visit our Waller showroom and see our live burn displays to experience the look and feel of our premium line of propane/natural gas log sets, which come in eight different styles.
Our Waller showroom also has a fine selection of premium stainless propane gas grills by FireMagic, A.O.G. and Renaissance Cooking Systems. All grills are convertible and come with a designated warranty.
---
Premium Propane-Powered Gas Grills


Holland is the only propane gas grill with the Triple Guarantee and No Flare-Up Warranty. A long term limited warranty on all materials and workmanship is provided. In addition, we will give you a 100% refund during the first 30 days if the Holland grill does not perform as advertised.
Our Waller, TX showroom has a fine selection of premium stainless steel propane gas grills for your outdoor patio. All grills are convertible and come with a designated warranty.
Contact us if you'd like to request a propane gas grill for your Greater Houston, TX home!
---
Outdoor Propane Gas Cookers

Green's Blue Flame offers a large selection of outdoor cookers. Come see all of our inventory–from small single burners to the large triple burner units in low and high pressure. We also carry a large selection of regulators, hoses, and fittings.
Come visit our Waller showroom for a fine selection of outdoor propane-gas-powered cookers and cookware by Bayou Classic, Texas Outdoor Cookers, and Hurricane Products. Most of our propane cookers include a hose and regulator assembly.
---
Houston Area Propane Tanks and Propane Cylinders for Sale
We have whatever size propane tank or cylinder you need! We offer a complete line of propane cylinders made of aluminum or steel. You'll find the quality of our customer service equals that of our propane tanks.
Count on us
for your propane needs, including tank installations.
We have a wide variety of portable propane tanks that range in size from 5 pounds to 100 pounds.