Propane-Powered Forklift Services in Texas
Houston Propane Gas Forklift Services


Green's Blue Flame is the full-service LP gas delivery company to call for propane-powered forklift applications and conversions in the Houston, TX area. Our propane forklift services include delivery of high-quality engine-grade propane, propane fuel conversions, and the installation of bulk propane refueling stations. We understand the importance of all forklifts, propane-powered or not, running efficiently and continuously to maintain a productive commercial environment with limited downtime. Also know that our forklift propane storage cylinders are available for purchase, lease, or loan.
---
Forklift Propane Cylinder Services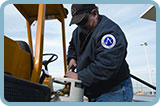 Our flexible on-site propane cylinder-filling service allows us to fill any size propane cylinder at the customer's location. Whether you have forklift propane cylinders or vapor cylinders that are used for cooking, shrink-wrapping, heating, or any other application, we can service your equipment and deliver the propane to satisfy your needs. Propane cylinders and storage racks are available for purchase, lease, or loan.
---
High Grade Texas Propane – Forklift Engine Friendly
Our high-quality Texas propane fuel comes to your forklifts in a closed-loop system. We know it is essential for commercial and industrial corporations to have quality-controlled fuel for all forklift operations. To ensure we meet your expectations, our propane product is delivered in our company-owned, propane-dedicated bobtail truck fleets loaded from propane storage tanks at our facility here in Houston, TX.
We have chosen one transport company to supply our business. The carrier provides propane-dedicated tank trailers loaded at one specific refinery. Our veteran professional propane drivers who oversee the deliveries are experienced in forklift propane delivery and can answer most propane cylinder questions you may have. With these procedures in place, you can be certain you are getting the product you need for your propane-powered forklift.
---
Houston Propane Cylinder Delivery and Filling Service
Supplying a quality propane product is important, but so is timely delivery service. Our propane bobtail delivery truck fleet is fitted with the latest computerized tracking systems, which enable us to enhance our propane delivery route scheduling so that your forklift propane is available in a timely manner. Our delivery services extend to Harris, Waller, and Montgomery counties and include flexible scheduling designed to serve our forklift cylinder customers. We provide propane gas delivery to the warehouse, commercial, and industrial districts of Houston, including the Houston Ship Channel, Pasadena, Channelview and Deer Park. Green's Blue Flame Gas also serves the outlying Northern, Southern, and Western areas of Houston, such as Sugarland, Spring, Tomball, and Waller with top quality propane gas delivery and service.
---
Texas Forklift Propane Gas Conversions
Green's Blue Flame is the leader in forklift conversions to propane in the Houston, TX area. Our technicians and propane delivery drivers have extensive experience in the aftermarket conversion of forklifts. We also have a large inventory of conversion-to-propane equipment in stock for propane forklift engines as well as repair parts for LP gas forklift systems. Our LPG conversion capabilities extend beyond forklifts to all types of engines. Houston area forklift users have been depending on Green's Blue Flame Gas' propane for years to service their forklifts and keep them running.
---
Save