Why Tank-Monitored Automatic Delivery?
No need to check your tank
Avoid inconveniences caused by running out of gas
Factor in your propane use for generators and pool heaters
Have year-round peace of mind on your propane supply
View your tank gauge online
Receive email notifications when delivery is received
Tank-Monitored AutoFill for Ultimate Convenience
Green's Blue Flame goes above and beyond standard propane delivery services to make powering your home with propane as convenient as possible. Our team of experienced professionals is available to help you find the best propane services for your Houston home. What sets us apart?
Automatic propane deliver with cellular tank monitors
Unmatched customer service
Highly trained propane professionals
Budget Plan to spread out annual propane cost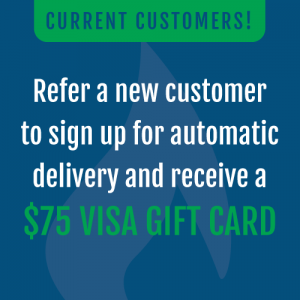 Inquire about Becoming a Green's Blue Flame Customer
Submit your information below if you are interested in reliable full-service propane.